Cellu 5000: At-Home Anti-Cellulite Massage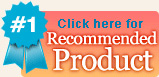 Anti-cellulite suction massage treatments are very popular these days. They are offered at various doctor's offices, especially those of dermatologists and plastic surgeons. They are also offered at high-end beauty salons; but, of course, they come with a high-end price tag to go along with them. However, if they promise to tighten and tone your skin, it should be worth the money, right? After all, if it takes a doctor or a professional aesthetician in order to perform such treatments, there's no way you could do it by yourself at home for a more affordable price, could you?
According to the makers of Cellu 5000, you absolutely could. All you need to perform these treatments on yourself in the privacy of your own home is one of their units, some specialty Cellu 5000 massage oil, and a few minutes per day. It can even help you get rid of your belly fat and go down a full dress size.
But is the Cellu 5000 system the miracle, at-home treatment for cellulite and sagging skin problems that woman have been clamoring for? Or is this another dud product which will fail to fulfill its lofty claims? Well, we were curious about this product too. So we decided to investigate.
Cellu 5000 - What's in the Box?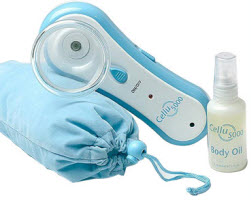 Lively infomercials (featuring waif-shaped models with perfectly toned and firm skin) advertise the following contents will arrive in the mail when you place your order:
One Velform Cellu 5000 massage device
A free carrying case (for the busy woman who needs to banish her cellulite on the go)
Not just one, but TWO bottles of the mysterious spray-on body oil
Now, we say "mysterious" in reference to the Cellu 5000 body oil because our researchers couldn't find any information on it. The company has not published the ingredients in this alleged cellulite-banishing oil, nor do they even offer to sell you new bottles for when you run out. But there may be a very good reason for that, which we'll discuss in the next section.
Does Cellu 5000 Work?
Cellu 5000 makes a lot of promises, but many unhappy customer reviews online beg to differ. Several displeased clients reported that their unit broke shortly after they received their purchase in the mail, some as quickly as their first use. One review even warned others that the Cellu 5000 massager is made in China and only has a 1-month warranty.
Cellu 5000: Final Verdict
It would be wonderful if somewhere out there in the world there were a working massage device which was inexpensive, easy to use in the privacy of your own home, firmed your skin, and got rid of all your unfortunate cellulite. Sadly, our researchers highly doubt that Cellu 5000 is that product. It might be a better idea to rely on manual massage with a scientifically formulated cream; one proven to remove fat-dimples and tone the loose skin around your waist, hips, and thighs. And we happen to know of a few. Learn more.