Revitol Cellulite Solution Review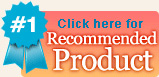 Revitol is a cosmetic line that offers anti-aging products as well as those for cellulite reduction. According to the manufacturer, a little bit of cream placed in trouble areas is enough to diminish the appearance of cellulite in a few short weeks.
Revitol is supposed to work by getting fat busting ingredients to the necessary fatty deposits beneath the skins layers. These all natural ingredients "wake up" the lymphatic system and increase blood circulation. With the lymphatic system working properly, captured fat can be flushed away and absorbed by the body.
In time, cellulite is removed and the skin looks smoother and more supple.
Revitol Ingredients
Known for their ability to target and remove the fat that is trapped by the skin's connective tissues, Retinol A, caffeine, L-Carnitine, Horsetail green tea and algae extract, are all proven ingredients for getting rid of cellulite.
Other Revitol ingredients include:
Purified Water, Squalene Oil 99%, Glycerin, Safflower Oil, Allantoin, Sodium Hyaluronate, Vegetable Emulsifier, Stearic Acid, Glyceryl, Stearate, Vitamin A Palmitate, Vitamin E Acetate, Triethanolamine, Dimethicone, Disodium EDTA, Panthenol, Tricaprylin, Glutamic Acid, Glycine, Gotu Kola Extract, Horse Chestnut, Fennel Extract, Aloe Vera Extract, Ginkgo Biloba Extract, Grapeseed Extract, Inositol, Germal II, Cetyl Alcohol, Sodium Benzoate, Potassium Sorbate, Carbomer.
Does Revitol Work?
The few reviews that can be located on Revitol show mixed results. Some customers swear by Revitol while others say it did little to nothing for them.
Revitol: Our Evaluation
It is always a good sign when you have more than one way to contact a business. This usually means the company is reputable (many fly by night business don't offer phone numbers or even contact emails), and could have a viable product. The Revitol website has all his info and more.
A red flag: The site says that Revitol is all natural; however, there are a few chemicals in the product that have proven to cause skin rashes. Disodium EDTA is a synthesized chemical and has been found to be "both cytotoxic and weakly genotoxic in laboratory animals" according to a study by Cosmetic Ingredient Review Expert panel. The study raised some other concerns regarding chelation, but despite this, the Panel did find this ingredient to be safe in cosmetic formulations.
Revitol also comes at a price tag of $40.00; although not the most expensive cellulite product out there, it isn't exactly cheap.